| | | | |
| --- | --- | --- | --- |
| Dancing With the Fayetteville Stars | | | |
Written by Stephanie Crider
Monday, 06 April 2009
Left, two, three, four and spin, two, three, four. Get your score cards ready Fayetteville. On Saturday, April 18, local celebrities will be competing at the Crown in the area's First Annual Dancing With the Fayetteville Stars.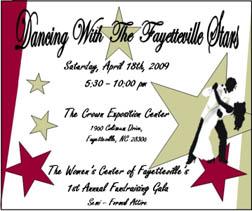 Come cheer for your favorite contestants and cast your votes as Mayor Tony Chavonne, Congressman Mike McIntyre, Fayetteville Councilman D.J. Haire, Bo Thorpe, Dr. David Schitzer and even the Swamp Dogs mascot, among others, dance the night away to raise money for the Women's Center of Fayetteville's Lease to Home program.
The Lease to Home Program focuses on getting homeless people off the streets and into their own homes. Since its inception, the program has helped 33 families become homeowners. These properties are usually 3 bedroom, 2 bath single-family homes in family-friendly neighborhoods. The program gives priority to veterans and domestic-abuse victims, but they take every call that comes in. The Women's Center already has a waiting list and fields five to 10 calls a day from people asking for help, said Stephanie Kennedy.
The Women's Center started planning for the event last summer and wanted to try something new and different, and this is something that hasn't been done in Fayetteville before.
"We were shocked at how quickly people jumped in to support it," said Kennedy. Although there were some concerns from the contestants that they didn't know how to dance, Kennedy reminded them that this is not about dancing, really.
"This isn't dancing with the stars on TV. This is dancing with the stars (because) you care about your community; you care about this program and what can you do to help raise money for it — and to go and have fun."
Dress is semiformal, and with good reason. "Fusion Salon...they're literally rolling out the red carpet, and people are getting their pictures taken," said Kennedy. "It is almost like they are walking into a real Dancing With the Stars. Q98 is going to do a live remote."
So glam it up ladies, this is your chance to shine. Dinner is a buffet, which is included in the ticket price, and will be served from 5:30 - 7p.m. Then the real fun starts. The competitors will dance for the audience and the judges (Judge Cheri Beasley, Kim Tucker, Rep. Margaret Dickson, Meredith Stiehl and Sandy Ammons) to a vast array of music.
"It is a good mix of music. We have some disco, some hip hop, and swing. We have all of it going on," said Kennedy.
She also hinted at some comedy and tomfoolery from the judges since none of them have a background in dance. "They have no knowledge of dancing or what not so that is going to be the funny part of it. That is going to be hysterical to see them give their comments afterwards."
Once the top four couples have been voted on, they will dance again and compete against each other to determine the winner.
The audience is encouraged to vote, too (it costs $10 per vote). In fact, Kennedy joked "This is the only competition on the planet that you can buy your victory. Right now you can go on our Web site (www.wcof.org ) to buy a ticket, ($150 per person, $200 per couple). You can buy a table ($1,000 for a table of 8) or you can also vote for the dancers," said Kennedy.
People can vote from all over the country,not just Fayetteville. If there are enough people across the country that a contestant can get to visit the Web site and vote for them, they can actually walk up into this competition having already won.
There are plenty of tables to be had, but they are going fast. The Women's Center is planning for 500-600 people in the audience. "I think the way that the people have really come out to support people less fortunate than them, I really think it could happen," said Kennedy. "We have been selling a lot of tickets and a lot of tables — it is for a good cause."
Call 323-3377 or visit www.wcof.org for more information or for purchase tickets.
Last Updated ( Monday, 04 May 2009 )