It's here folks ... Our biggest issue of the year: The Best of Fayetteville, as voted on by you the readers. Enjoy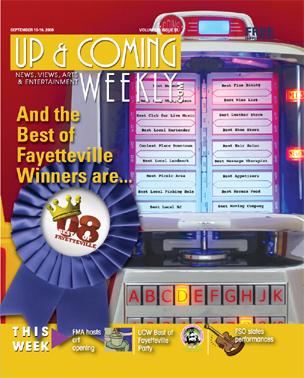 Best Place to Commune With Nature
Cape Fear Botanical Garden
536 N. Easter Blvd., Fayetteville
910.486.0221
www.capefearbg.org

The Cape Fear Botanical Garden has been a quiet sea of serenity for our community for a number of years. This past year, the garden's board elected to expand the garden and make better use of its assets, launching a capital campaign to build a visitor's center and meeting area.
While the new facilities will offer more room for events and activities, it won't take away from the beauty of the garden. Its design is restful and seems to flow with the rest of the park. They say gardening is a great form of relaxing. It seems our readers think it's also a great place to relax in the environs made by professional gardeners, as well.


Best Local Festival
Dogwood Festival
Liberty Point Building
145 Person Street, Fayetteville
910.323.1934
www.faydogwoodfestival.com

There are many categories in this survey that should probably be retired — this being one of them. Since the inception of the Best of, the Fayetteville Dogwood Festival has topped this category.
The festival, which was founded in 1982, is probably one of the biggest events during the year. The weekend event keeps downtown hopping with everything from barbecue, to antique cars to rock 'n' roll. This past year's thousands of people poured into Festival Park to take in the events. From sun up to sunset, the park was hopping and a good time was had by all — well just about all.
This year's festival garnered a little bad press – the result of the festival's board choosing to exclude churches from the vendor list. But, the board has always listened to the wants and needs of the community, and in the coming year the churches will be welcome members.

Best Change to Fayetteville in 2007/Best Use of Local Tax Dollars
Recycling
www.ci.fayetteville.nc.us/recycle

If you listened to all of the rhetoric leading up to the implementation of curbside recycling in Fayetteville, you would have thought the very idea was sacrilege. But Fayetteville residents let those who wanted to talk talk, and let their actions do their talking for them. That's why in the opening weeks of recycling more than 90 percent of the city's residents filled their blue cans and rolled them out to the curb.
During the first four weeks of the curbside recycling program 655 tons of recyclables were collected. City officials felt that the overwhelming response was an indication from the local citizenry that recycling was not only good for the city; it was a good investment of tax dollars. Our readers concur.


Best Local Landmark
The Market House

While Fayetteville has many symbols, The Market House, located downtown is one of its most enduring. The Market House was built in 1832 on the site of the old State House, which was destroyed by fire in 1831. It was within the walls of the State House that North Carolina had ratified the Constitution of the United States in 1789 and chartered the University of North Carolina.
For those not in the know, The Market House is located in the center of the intersection of Green, Gillespie, Person and Hay Streets. For decades meat and produce were sold beneath its arches by local farmers, while the second floor was the town hall. In recent years the second floor has been used as a public library, chamber of commerce offices, and an art museum. Many distinguished visitors have spoken from its balconies — in fact last year in celebration of the Marquis de Lafayette's 200th birthday a faux Marquis rode through the city streets and then addressed the crowd from the balcony.

Best Little Known Attraction
Paddy's
2606 B Raeford Rd, Fayetteville
910-677-0055
www.paddygibneypub.com

"The Irish — be they kings, or poets or farmers, they're a people of great worth, they keep company with the angels, and bring a bit of heaven here to earth."
That's an old Irish quote, but it seems to fit in this case, as Paddy's has been named the Best Little Known Attraction. In years past, the winners in this category have tended to be places of quiet reflection — places like the Cape Fear Botanical Gardens or the River Trail. Never in the 10 year history of this survey has it ever been a bar.
Of course, Paddy's isn't your run of the mill bar. Paddy's, located just off Raeford Road, is an Irish Public House, or to use the vernacular, it's a pub. A great pub. You can find great music and great people at Paddy's every time the door is open.
For those who have been in the area for some time, Paddy Gibney is not a stranger. He's been on the Fayetteville musical landscape as long as Up & Coming Weekly has been in existence. You can usually find him with his good friend Bill, and you can always find them on stage at the pub every Tuesday, Thursday, Friday and some Saturdays. If Paddy's not on the stage, then some other band is.

Coolest Place Downtown
The Keys Piano Bar & Restaurant
102AB Person St., Fayetteville
910.483-3854
www.thekeyspianobar.com

It's been awhile since people have stood in lines to get into a downtown bar, but with the advent of The Keys Piano Bar downtown nightlife has experienced a rebirth.
The restaurant/club offers live entertainment every Wednesday, Thursday and Friday. For those who are unfamiliar with The Keys, the entertainment centers around two dueling pianos. Every week or so, the club flies in new piano players, which keeps the audience coming back for more.
While the piano players set the mood, club owners want people to remember that the audience is what makes the show. Audience members are encouraged to "clap along, sing along, stomp along, drink along and have one hellava good time."

Best Thing to Show Out of Towners
Airborne and Special Operations Museum
100 Bragg Blvd., Fayetteville
910-643-2766
www.asomf.org

Some might say, and we would be included in that some, that the construction of the Airborne and Special Operations Museum was truly the beginning of the revitalization of downtown.
Some people, not us, didn't really think the museum would have that big of an impact on the city, but they were wrong. One of the first things it did was bring people downtown. It made downtown a destination when family and friends come to visit. Its location downtown generated the construction of restaurants (after all, those visitors have to eat), and it beautified the area that had been nothing but a line of dark bars (anybody remember the 7 Dwarves?).
If you're a Fayetteville resident and you still haven't made a visit to the museum, here's what you're missing. In the main exhibit area, you'll find exhibits focused on the early airborne, World War II, Korea and the Cold war, Vietnam and contingency operations and training. In addition to these standing exhibits there is also a special exhibit gallery that hosts rotating special exhibits. In recent years exhibits have included Special Forces at 50, Soldiers: The Global War on Terrorism and Vietnam: A War Remembered. The current exhibit focuses on The OSS, which was a precursor to modern special operations during World War II
And, if you think history is boring, you can make a stop in the museum's movie theatre and simulator to get a more exciting look at history.


Best Things to Hide from Out of Towners
Bragg Boulevard

It's official. This category is retired. We've been doing the Best of Fayetteville for 10 years, and every year, Bragg Boulevard has won this category. Everyone wants to talk about the littler, the rundown buildings, the strip clubs that moved off Hay Street and on to the boulevard. The complaints have, over the years, appeared to fall on deaf ears, but in the near future, that may change.
The City of Fayetteville is working vigorously to beautify all of its gateways. Projects are already underway to impact portions of Bragg Boulevard near downtown and Murchison Road. And that's a good start. But the city can't and shouldn't do everything.
Local business owners have got to step up to the plate and start taking some pride in their property. There's nothing that says you can't have a tasteful strip club or car repair service or even flea market. A little paint, a little landscaping and some garbage cans will go a long way to improve the look of the area.
Another thing that will help is a new sign ordinance recently adopted by the city. That ordinance will do away with a lot of the over-sized signs, and those flashing moveable signs that dot the landscape. The sign code will make things uniform, so the boulevard won't look like such a hodgepodge.
So, the city's doing its part — now it's our turn.
Best Live Theatre
Cape Fear Regional Theatre
1209 Hay St.. Fayetteville
910.323.4233
www.cfrt.org

Since 1962, Cape Fear Regional Theatre has been not only a beacon of storytelling in Cumberland County, but also a center of culture and entertainment whose incandescence has shone throughout the state. Known as one of the finest theatres in North Carolina, CFRT had humble beginnings, founded by a small group of local actors which performed its very first production, The Night of January 16, in the Fayetteville Courthouse.
Under the leadership of the grand dame of local theatre, Bo Thorp, and with the community's support, the CFRT renovated the old courthouse and incorporated two additional buildings to form a three-story complex with a 327-seat main stage.

Best Local Actress
Bo Thorp

Bo Thorp seems to have this award locked up. And why not? One of the founders of Cape Fear Little Theater, Thorp has been instrumental not only as a star and supporting player in countless CFRT productions over the years, but is also the CFRT's artistic director. Whether playing the lead in Driving Miss Daisy or contributing her skills to an ensemble cast in Lunch at the Piccadilly, you can always count on Thorp to "break a leg" with style and grace.
Those who know Thorp know that drama is in her blood. Her rich laugh, sense of humor and perfect delivery of every line make her the grande dame of the community theatre, but they also makes her one of the city's cultural icons. To say that we have something of an affection for Thorp is to put it mildly. We're glad that the community has the same excellent taste that we do. Thorp is the heart and soul of theatre in this community.

Best Local Actor
Greg King

Greg King knows drama. If you ever had any question about that, then y ou should not have missed Company at the Cape Fear Regional Theatre last season. King, an area businessman, electrified the stage with his tender, yet humorous performance in the musical. But that's just one of the many shows he's done over the years. But it was enough to win him this coveted title.

Best Play This Season
Cabaret at The Gilbert
910.678.7186
www.gilbertheater.com

The wonderful adaptation of the musical Cabaret debuted at the Gilbert Theater on June 5. The performances were exhilarating and grand, especially the characters of Master of Ceremonies (Timothy Lee Lloyd) and Sally Bowles (Alexis Chieffet). Despite the surface gaiety of the musical, the production was laced with an undercurrent of tension and darkness, because as the boys and girls danced gaily and drink and loved passionately at the Kit Kat Club, a storm of epic death and destruction is tap-dancing on the horizon.
This is a first for The Gilbert, which is celebrating its 10th anniversary with the opening of its upcoming season. The Gilbert, based in the old city hall off Green Street, performs its plays in a black-box theater. All of the actors and directors are local and no one is paid. It is community theater in its most basic form, but in the case of The Gilbert, it pushes the envelope producing not the run-of-the-mill plays.

Best Local Poet
Sam Silva

Though internationally known, poet and author Sam Silva makes Fayetteville his home. A prolific writer, Silva often composes three, four or more pieces every day.
His well-received collection of verse and prose, Eating and Drinking, is available at booksellers everywhere. He has published more than 150 poems in print magazines including, but not limited to Samisdat, The ECU Rebel, Sow's Ear, The American Muse, St. Andrews Review, Dog River Review, Third Lung Review, Main St. Rag, Charlotte Poetry Review, and Parnasus.

Best Gallery/Art Venue
Fayetteville Museum of Art
839 Stamper Rd., Fayetteville
910.485.5121
www.fayettevillemuseumart.org

Despite the recent controversy over the proposed relocation to Festival Park, one cannot look past the fact that the Fayetteville Museum of Art is our capital of culture. Founded in 1971, its present site was the first building in the state designed and built as an art museum. In addition to the modern facility that includes two galleries, classrooms, studio space, an art reference and slide lending library, and a museum store, the museum's 5.8 acre grounds and pond offer Fayetteville a little slice or tranquility amid the bustling city life.
At Up & Coming Weekly, we are proud to be the museum's downtown annex, hosting Gallery 208, The Leonard McLeod Gallery and a sculpture garden in our corporate offices on Rowan Street, across from Festival Park. This partnership puts the works of national and local artists on display year-round for free viewing (and we also throw an awesome opening party, which is free and open to the public.)

Best Movie Theater
Cameo Art House Theatre
225 Hay St., Fayetteville
910.486-.633
www.cameoarthouse.com

An homage to the elegant bijous of the past, the Cameo Art House Theatre is a place to enjoy independent "art" films, as well as mainstream fare, relaxing in one of its 125 crushed velvet seats while enjoying its Dolby digital sound and projection system, four film screening formats and a lobby lounge where patrons can enjoy a glass of wine, imported beer, cup of coffee or cappuccino.
The building was home to one of Fayetteville's first motion picture theatres: the New Dixie. Veteran moving picture man S.A. Lambert first bought out the original Dixie in 1908. He moved across the street to the Southside of Hay Street in 1914 and called it the New Dixie. The present Cameo Theatre Building then hosted many local businesses, most notably Dixie Billiards and Eddie's Music. Chris & Nasim Kuenzel and Eric Lindstrom acquired the building in 1998, opening as the Cameo in October of 2000.
The Cameo has screened more than 200 art, independent, foreign and classic films.

Best Video Rental
Blockbuster

Sometimes, bigger is better. Blockbuster is the undisputed king of the video rental market, both in Fayetteville and abroad. The largest chain of DVD and video game rental stores in the world.

Best Place for Family Entertainment
Fun Fun Fun
3729 Sycamore Dairy Road, Fayetteville
4670 Cumberland Road, Hope Mills
910.487.8585 or 910.864.1307
www.gofunfunfun.com

What's in a name? Everything if your business is called Fun Fun Fun.
Since opening on July 4, 1990, Fun Fun Fun has dominated the "fun" factor in Fayetteville, offering 125 games, rides and laser tag to the legions. There is also a full snack bar offering everything from nachos, ice cream and pizza, to Asian-style fare like, Kim Chee, egg rolls, fried rice, chicken and bulgogi.
With locations in Fayetteville and Hope Mills, Fun Fun Fun offers the perfect place for a birthday party, or is just right for entertaining the kids on a rainy Saturday afternoon.

Best Local Band
Paddy and Bill

Advertising their music as "Shamrock and Roll," acoustic duo Paddy and Bill (Paddy Gibney and Bill Ayerbe) got together in 1998, performing their Celtic brand of music to packed houses across the Carolinas. The duo can most often be found performing at Paddy's self-named pub right here in Fayetteville.

Best Place for Live Music
Jesters Pub
6577 Fisher Rd., Fayetteville
910.423.6100
www.jesterspub.com

With the motto "It Ain't No Joke," you just know Jesters takes itself and its music seriously. Fayetteville's premier spot for live music, as voted by the county's music fans, has hosted many nationally-known acts in the past and just keeps the famous names rolling with scheduled future performances by such rock heavyweights as Clutch and Sevendust, and, coming in October, country's wildest outlaw, David Allan Coe.

Best Jukebox Tunes
Fubar
3319 Raeford Rd., Fayetteville
910.677.9900
www.fubarfayetteville.com

Sporting perhaps the best acronym in perhaps the history of bardom, Fubar also, according to our readers has the best selection of discs in its jukebox. Owned and operated by Roy and Kelly Parker, the bar is also known for its large bar and energetic live acts, remember to bring a fistful of quarters next time you visit this jukebox haven.

Best Bar and Best Bartender
Thee Backdoor/T.J.
3446 Raeford Rd., Fayetteville
910.864.3974

Where everyone knows your name. Thee Backdoor bills itself as "a regular bar that's very chill, where all types of people come and hang out. There are darts, pool tables, a juke box, awesome bartenders who won't make you wait, a great atmosphere, and lotsa good drinks and fun people." People like T.J. For the second year in a row, T.J., a West Virginia native, uses her "country road" personality to make patrons fill at ease as she eases their worries and concerns with the best in liquid libations.

Best Biker Bar
The Doghouse
3049 Owen Drive
910.826.9761
www.thedoghousegroup.com

If you feel naked without your leathers and would rather ride a Harley than a Hyundai, then the Doghouse is for you. With good food, live music and an outdoor patio (the better to keep an eye on your chrome horse), this is the hot spot for all you easyriders and Peter Fonda wannabes. So, vroom on over.

Best Beer Selection
Mash House
4150 Sycamore Dairy Rd., Fayetteville
910.867.9223
www.themashhouse.com

Forget that pale imitation of pale ale you can buy at the local supermarket — if you want to truly experience beer the way it's supposed to be, find a designated driver and motor over to the Mash House where they make their own lager. Some of their superbrews include the award-winning India Pale Ale, fruit beers (raspberry, peach, strawberry, blueberry and cherry), and stout. And because some misguided people think man can't live by beer alone, the Mash House also offers a fine selection food.
Best Local Politician
Tonzi Collins

It's a bit unusual for a Hope Mills politician to take top billing in this category. Last year, Fayetteville Mayor Tony Chavonne won this category. Following in his footsteps, Collins, a former police officer, got the nod.
Like Chavonne, Collins has had his share of press the past year — not all of it good. Most recently, Collins is involved in a lawsuit against the city to win his job back at the Hope Mills Police Department. While some folks find that a difficult place for a city councilman to be, a vast majority of Hope Mills residents supports him in his efforts. And, naming him the top politician, goes a long way to show their support.

Best Local Scandal/Biggest Waste of Local Tax Dollars
Ticketgate

Finally, the Big Boom Annexation has fallen out of favor in this category. Unfortunately, for the City of Fayetteville, their leadership was still at the center of the storm surrounding Ticketgate.
Ticketgate for those not in the know, revolved around a wreck on Gillis Hill Road. Wait a minute that area was in the Big Boom Annexation, so maybe it really didn't fall out of the running.
If the area hadn't been annexed, Fayetteville Police would not have been patrolling the area. The mayor would not have had any authority to call on the city manager, who called on the police chief to get officers to take a second look at who really deserved the ticket. So maybe the Big Boom Annexation is still at the top of the list, or at least, at the root of it.
Ticketgate saw much media coverage. It created a task force through the district attorney's office to reinvestigate the investigation, and ultimately led to the creation of an ethics committee that has recently decided to investigate Ticketgate.
Hence, it became the Best Local Scandal and the Biggest Waste of Local Tax Dollars. We know, its complex, and we're really glad it's over.

Best Local Community Program/Civic Club
Kiwanis Club of Fayetteville

For 88 years, the Kiwanis Club of Fayetteville has been a driving force in the community. The club, founded on Nov. 10, 1920, has a membership that includes many of the movers and shakers in the community. Over the years, a number of the community politicos have gotten their start in the ranks of the Kiwanis and local business people thrive in the club.
Over the course of a year, the organization sponsors a number of programs – all designed to impact the lives of children in our community. Reading is fun puts 4,000 books in the hands of children enrolled in the Head Start and Chapter One programs, while sponsorship of the Dixie Youth Baseball league puts bats in the hands of youth, while teaching them about teamwork and sportsmanship. Of course, you can't talk about the club, unless you mention the Kiwanis Talent Night. The annual spring event lets talented youth compete to perform in the BIG SHOW.
And, of course, we have to talk about the money. Each year, the club gives $100,000 back to the community through its projects. In recent years grants have been given to the Boys & Girls Home of North Carolina, the Cape Fear Regional Theatre and The Child Advocacy Center just to name a few.

Best Local Nonprofit
Blood Donor Organizations

One of the greatest gifts you can give someone is the gift of life. Here's the Top 5 Reasons Why You Should Give Blood
5. It doesn't cost you anything.
4. You get great treats like cookies or donuts after you're done.
3. You have an excuse not to exercise for 24 hours.
2. People are nice to you.
1. You can save a life.

Best Local Station, Best Local Traffic Reports, Best Local DJ
WKML 95.7
508 Person St., Fayetteville
910.486.4114
www.wkml.com

Having lost its place in the Best of standings last year, WKML brought its A-game this year to earn all three of the radio-related awards.
WKML, a member of the Beasley Broadcasting Group, is the voice of country in our community. The station has some of the best games and contests around, and its deejays are not just a disembodied voice on air — their family.
Don't believe us? Why do you think Uncle Don (that's Don Chase) is such a hit. Chase, named the best local DJ for probably the gazillionth time, is the man a lot of Fayetteville women wake up to. Now don't worry, he's on the air — they are at their houses, but he is the guy who gets their day started right. From sharing close family stories to even talking about his weight, Chase let's his listeners into his life, and they let him into theirs.

Best Local Columnist/Writer
Shanessa Fenner
Up & Coming Weekly
208 Rowan St., Fayetteville
910.484.6200
www.upandcomingweekly.com

It's always somewhat shaming to have a writer for a competing publication win this category. And, until the past couple of years, that was the case. We, being the classy establishment we are, would do the walk of shame to hand out awards to our competitors.
But that stopped last year when our own Shanessa Fenner took top billing. Shanessa, a middle school principal, radio host and writer, has again won this category. We couldn't be prouder.
Shanessa keeps a schedule that would drive most people insane, but she stays on top of everything, and in fact, spends some time reminding us when she hasn't gotten her assignment.(She particularly likes to remind us around 6 a.m.) Entertainment and education are some of the topics she likes to cover, but she's covered a little bit of everything from business to liposuction.
Wait, we could be prouder. When the votes were in, the Up & Coming Weekly writing crew took the top three slots. In slot number two was our own Bill Bowman, who's known for his call-it-like-it-is editorial pieces. Bill isn't afraid to tell it like it is — in fact; it's one of the things he does the best.
Coming in third was Stephanie Crider. Stephanie has been a contributing writer for the past three years, and has really grown in her talent and ability to tell a good story. She is becoming well-known in community circles for not only her writing, but her glasswork as well. A military spouse, Stephanie throws everything she has into the community and it shows in her articles and in her beautiful family.
(Side note: As the editor of Up & Coming Weekly, I'd like to take a little credit for their success, but I won't they work hard and they deserve all of the kudos. Great job team!!! Oh, and you other guys who didn't make the cut this year, just keep looking up because you won't see this award any time soon.)


Best Picnic Area, Best Tennis Courts, Best Place a Bike Ride, Best Place to Walk the Dog, Best Local Fishing Hole
Fayetteville-Cumberland Parks and Recreation
121 Lamon St., Fayetteville
910.433.1547
www.fcpr.us

The people of Cumberland County are proud of their parks and recreation program. And they should be. Someone would argue that Fayetteville has more parks than you can shake a stick at, but the serenity of the parks — not to mention the sound of children playing or competing in team sports that resound the parks sometimes make it seems like there aren't nearly enough. Because our parks and our green spaces are part of what makes this community so unique. They add to the quality-of-life of its residents, and to its beauty.
The community has three regional parks; four community parks; nine neighborhood parks; three linear parks; six special use parks; three sports complexes; and 17 recreation centers. With such a large networks of parks, it only makes sense that the Fayetteville-Cumberland Parks and Recreation would rule the outdoors and recreation category.
The Cape Fear River Trail, which is one of the jewels of the parks system, brought home honors as the Best Place to Ride a Bike and Walk a Dog. We wouldn't recommend trying to do both at the same time.
Lake Rim Park is the destination for picnicking and fishing. You can do both of those things together, but make sure you keep your eye on your line. You wouldn't want to miss a nibble while you are taking a bite.
And if you're not too tired from riding your bike and walking your dog and not too stuffed from your picnic, you can always head over to Mazarick Park where you can hit the tennis courts for a quick game, then maybe have a dinner picnic and check out a softball game or try your hand on at disc golf.

Best Golf Course
Cypress Lakes
2116 Cypress Lakes Rd., Hope Mills
910.483.0359
www.cypresslakesnc.com

Located a little less than 3 miles off I-95, Cypress Lakes challenges and delights the most avid golfers. At Cypress Lakes, fast, championship style greens await your full concentration. You'll find the best conditioned course in these parts, tough enough to keep you on your toes and fairly designed for any level player.
Cypress Lakes makes the leap from good to a great because the staff has spent the last 10 years transforming the greens into a championship style course. Eighteen holes, Par 72 and 7,240 yards of Hybrid 419 Bermuda grass, stand ready to test your skills.
The course's Penncross A-4 bent grass greens lay down like smooth carpet. Precision growth and management techniques ensure the best possible chance of making par. And for a golfer, anything less than par is just really not acceptable.
An extremely fair course to play, you can take it on as aggressively as you desire. And because it has no blind spots to the greens, you won't be forced into extremely challenging shots unless you want them. Whether you play it assertively or safely, Cypress Lakes uniquely tests every caliber player at their own level.

Best Basketball Court
Fayetteville YMCA
2717 Fort Bragg Rd., Fayetteville
910.323.0800
www.fayettevilleymca.org

With the large number of basketball courts in our community (schools, colleges, rec centers), it's quite a prize for the YMCA to take these honors. The YMCA's court is home to adult and children's leagues. Of course, for our money, there's nothing better than watching 4-year-olds, run, slide and tackle each other all in the name of basketball. We can't help but think their slides help keep the floor in such good shape. Of course, they are also much easier on nets. We've yet to see any 4-year-old hang from the hoop.

Best Bowling Alley
Lafayette Lanes
3313 Raeford Rd., Fayetteville
910.484.0113

Lafayette Lanes is a perennial favorite in Fayetteville. The bowling alley is always filled. Whether playing in leagues or among friends, bowlers go to Lafayette Lanes to knock down the pins. Of course, while they are there, they just might knock back a few adult beverages, burgers, fries and nachos. But that's not what it's really about. It's really about Zen. That's right, Lafayette Lanes is a place where you can become one with the ball, and once you've achieved that Zen state, you let it fly. That strike earned you another adult beverage. And, it earned Lafayette Lanes another Best Of Fayetteville award.

Best Pool Room
Fat Daddy's Market & Grill
1918 Skibo Rd., Fayetteville
910.864.1300

Fat Daddy's Market & Grill has owned this category for so long, that we really just don't know what to say anymore. So here goes. Fat Daddy's: good pool, good food, good people.

Best Sporting Goods Store
Dick's Sporting Goods Store
2051 Skibo Rd., Fayetteville
910.867.8566

The year was 1948. Eighteen-year-old Dick Stack was an energetic salesman at a small Army and Navy store in Binghamton, New York. One day, the store owner asked Dick, an avid fisherman, if it would be a good idea to sell fishing gear in his shop. Dick offered to develop a plan.
After working tirelessly on a business plan over a succession of sleepless nights, Dick nervously approached the owner with his vision. The response was stinging. Dumbfounded, Dick was told that he didn't know what he was doing and "would never make a good merchant."
That evening, frustrated and dejected, Dick retreated to his grandmother's home. She listened quietly as he recounted his story. When he had finished, she rose silently and went to the kitchen. Removing the lid from her cookie jar, she extracted $300 of her hard-earned savings and pressed the bills into Dick's hand." Dick, always follow your dreams," she advised.
Today, Dick's Sporting Goods helps Fayetteville residents follow their dreams - whether its learning how to make a fly for fly fishing, getting the perfect pair of shoes for soccer or the perfect piece of workout equipment to help you get your body in perfect shape. If you dream it, Dick's can help you make it happen. All you have to do is open the door and your wallet and you're halfway there.

Best Live Music Club, Club DJ, Place to Dance, Club Overall, Pick-Up Bar, Sports Bar
IT'Z Entertainment City
4118 Legend Ave., Fayetteville
910.826.4635
www.itzentertainmentcity.com


IT'Z Entertainment is "it" for all your extracurricular activities.
The Fayetteville nightspot won six first place awards in Up & Coming Weekly's 2007 Best of Fayetteville contest, gaining the gold for the following categories: bBest Club for Live Music; Best Club DJ; Best Dance Club; Best Club Overall; Best Pick-up Bar; Best Sports Bar.
Harold Ingles, IT'Z self-described "party engineer," says the club's versatility is what sets it apart from the meat-market crowd.
"We've got so many choices," said Ingles. "If you get tired of the dance club you can go relax in our cigar bar, or if you're sports-minded, you go to our sports bar and sit out on the patio and watch the game. Football is starting up and we have a loyal group who patronize our sports bar."
A virtual entertainment conglomerate, in addition to a sports bar, cigar bar and dance club, IT'Z offers a full menu at its bar and grill, a comedy club and catering service.
Ingles says another aspect of IT'Z that sets it apart from other clubs is the atmosphere. "Each room has a different ambiance," said Ingles. "Our clientele is very diverse. And we really maintain the club well, keeping it clean and exciting to keep those people coming."
A big winner in the past — IT'Z earned five first-place designations in Up & Coming's 2007 Best of Fayetteville Contest — IT'Z refuses to rest on its laurels. Ingles says the club is planning to add a VIP section to its already successful formula.
IT'Z opened its doors seven years ago and is owned by Joey Monsour.
"He's the man," said Ingles. "This is all his vision of what a night club should be."
The club is open 11 p.m. to 2 a.m., seven days a week, 364 days a year — the staff does take Christmas day off.
Ingles gives much of the credit for the club's success to the staff, which includes a huge bartending crew of around 20.
"They are very professional," said Ingles. "We're all about providing as good an atmosphere as possible for our patrons. They're the ones truly responsible for our success. We are very gracious and appreciative that so many folks voted for us as the best."

Best Overall Restaurant, Wait Staff, Restaurant for a First Date, Outdoor Seating
Pierro's
217 Hay St., Fayetteville
910.679.8885

"Pasta, wine and romance," those are words the owners of Pierro's used to describe their restaurant in November 2007. It seems they were on the money with the romance, as one of the four awards taken by the restaurant includes Best Restaurant for a First Date.
And it's easy to see where the romance comes into play. One has to only walk into the restaurant, with its hard wood floors, and warm brick walls, muted lighting to know that romance is in the air — well, along with the pasta, garlic, tomato and all sorts of comforting smells that make you feel like you've just come home.
For the past four years, Pierro's has been a downtown destination. It was one of the first full-service restaurants to successfully integrate sidewalk dining into the downtown landscape, which would be why it also qualified for Best Outdoor Dining. If you want to sit outside, it's best to come early and to be prepared for the passers-by who gaze longingly at your food.
Of course, when you couple the romance and the great pasta with a wait staff that is very attentive to your needs, you have a winning combination. There's nothing worse than sitting down to what appears to be a wonderful meal, only to have your waiter disappear on you, leaving you parched throughout the remainder of your meal. You don't have to worry about that at Pierro's because if your waiter pulls a Houdini, someone else is more than willing to step in. The wait staff at Pierro's is also quick to fill your glass, grind pepper or grate cheese to make your dish even more appetizing.
With all of these things going for the restaurant, it's easy to see why our readers have voted Pierro's the Best Overall Restaurant.

Best Place to Buy Used Books and CDs
Edward McKay
3720 Bragg Blvd., Fayetteville
910.868.1001
www.edmckay.com

For 34 years, Fayetteville residents have been buying, selling and trading used books at Edward McKay Used Books.
And while the store's merchandise has changed over those three-plus decades — the Bragg Boulevard retailer now offers CDs, DVDs, video games and mp3 players — one thing hasn't: the store's commitment to providing the best product at the best prices.
"We try to keep on top of what our customers want as far as what we keep in stock," said Assistant Manager Kristi Jones. "We also have a special section for children with books, DVDs and CDs — all for kids."
That attention to customer care recently paid dividends as the store won two first place awards in the Up & Coming Weekly's 2008 Best of Fayetteville contest, garnering first for best place to buy used CDs and best place to buy used books.
Founded in 1974 by Phil Jacobsen, Edward McKay was originally located just off Yadkin Road, but relocated to a bigger store on Bragg Boulevard about a year ago. Since its inception, Edward McKay has branched out, opening stores in Raleigh, Greensboro and Winston-Salem — each of which boast more than 10,000-square feet of merchandise.
Jones says that while the business was started mainly to sell used books, DVDs have really pushed to the forefront of sales.
In addition to selling books, CDs, DVDs, VHS tapes, games, audio books, mp3 players and various other electronic gadgets, Edward McKay will also buy your used items or offer you a trade amount to open in the store.
Bring your items in boxes or bags — no trash bags. No appointment is necessary. The store utilizes a first-come, first-served basis, so expect some waiting time if there are others ahead of you. You'll usually get more in trade credit than in cash. Trade credit never expires and can be used at any of the stores.
If you're selling items for cash, you must have a picture ID with you — preferably a driver's license or state-issued ID. You must be 18 to sell items for cash.
Edward McKay pays cash for the following items: DVDs, unscratched CDs, video games and hardware, current textbooks, some vinyl records, some nonfiction, some classic fiction, audio books on CD, iPods. In-store credit is given for most fiction, children's books, VHS tapes, scratched CDs, audio books on cassettes.
Jones adds that the store has recently started granting store credit for DVDs.
Edward McKay stands behind its products, offering a seven-day return policy.

Best Day Spa, Tanning Salon, Nail Salon, Hair Salon, Leg and Bikini Waxing, Best Health Club
The Renaissance Day Spa
860 Elm St. or 1534 Purdue Dr., Fayetteville
910.484.9922 or 484.2111
www.renaissancedayspa.com

If pampering is your game, then the name to call on is Renaissance European Day Spa.
The wellness, health and beauty Mecca of Cumberland County won an impressive six first place awards in Up & Coming's 2008 Best of Fayetteville competition, including: best health club/gym, best hair salon, best leg and bikini waxing, best nail salon, best tanning salon, and best day spa.
"We are committed to providing an overall wellness program for our clients," said Kathy Henson, the facility manager for the Eutaw Village location — Renaissance Spa also has a location on Purdue Drive.
The parent company of the Renaissance European Day Spa, the Spa Fitness and Wellness Center, opened its doors in Fayetteville back in 1975. The company has grown exponentially over the years, opening the Purdue Drive location in 2006 and increasing it's original staff of 18 to more than 200.
The Renaissance European Day Spa offers the most complete list of health and wellness services in Cumberland County: a fully outfitted gym, swimming pool, nail and hair salon, body waxing, juice bar, aerobics and aqua aerobics, massage, kick boxing, tai chi, tanning, yoga, line dancing and non-surgical facial rejuvenation. A salsa dancing program will be offered in October. During that same month, the spa will initiate a program aimed at teaching teenage girls how to apply makeup and fix their hair, as well as teach them about the changes occurring to their bodies.
"We are a one-stop shop for health and wellness," said Henson.
And while a membership is required for many of these services, the general public can take full advantage of the spa, which includes various packages, including the popular European Sampler: a deep cleansing facial, a Swedish massage, a spa lunch in the garden lounge followed with a spa manicure and pedicure.
If you want the full monty, the spa offers the Ultimate Renaissance Retreat — a day-long retreat that combines aromatherapy massage and an aromatherapy salt glow; a water healing body treatment; a spa lunch; a Renaissance deep-cleansing facial; a make-up application, haircut and style.
The gym is equipped with the latest Cybex equipment and a Johnny G spin program; more than 90 fitness classes are offered.
"We have coed workout areas as well as a ladies only gym," said Natalie Spencer, the spa's general manager. "And we have a day-care for clients who use our services. You can't get that kind of service anywhere else in Fayetteville."
Apparently, our readers agree.