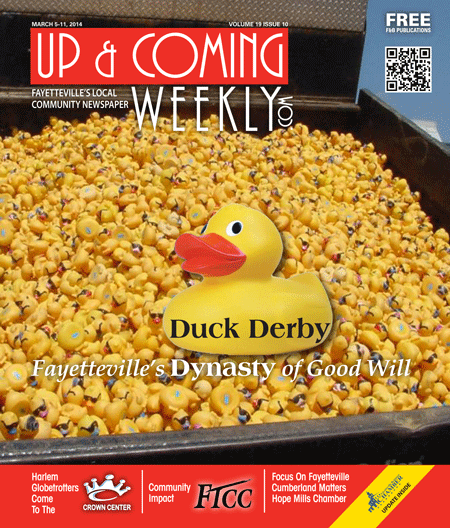 Spring is in the air and Ducky is on the move as the 4th Annual Fayetteville Duck Derby approaches. A newly sanctioned Dogwood Festival event, The Duck Derby is scheduled for Saturday, May 3, at Campbellton Landing. The Duck Derby mascot, Ducky, is busy attending local events to get the word out about the race. While the race is still weeks away, there are many ways to participate beforehand. This event is designed to be fun — the grand prize is a 2014 Toyota Scion XD. There will be prizes for second and third place, as well. In the end, everyone wins because the money raised goes right back into the community.
Brandon Price, community liaison at Fayetteville Urban Ministry, is excited about how much The Duck Derby has grown and the many ways that this event has helped the community. "Four years ago, two young ladies stepped up to put on The Duck Derby. We are so grateful for their efforts and for the many ways this event has benefitted the community," said Price. "Each year we send multiple thousands of rubber ducks down the Cape Fear River. We are looking to make this a banner year and to raise as much as we can on behalf of the community we serve."
While the event is hosted by Fayetteville Urban Ministry, this is a chance for all local nonprofits to benefit their respective causes. Nonprofits and area schools have already registered their teams at www.fayettevilleduckderby.com. The public is invited to visit the website and purchase a duck — or several ducks — to enter in the race. Each team receives $1 per duck registered to that team. "We are really excited to partner with Cumberland County schools this year, too," said Price. "We have several schools registered already and Dr. Till (Superintendent of Cumberland County Schools) has been very supportive. We are excited to welcome them on board this year. Nonprofits and schools are signing up daily. The sooner they sign up, the sooner they can start generating funds for their agency."
Corporate teams are also encouraged to participate. A separate corporate race is scheduled for the big day as well. This is a chance for local businesses to step up and support nonprofits of their choice. The winner of the corporate race gets bragging rights for a year and a year-long presence in the Fayetteville Urban Ministry newsletter. Last year's winner, Bizzy, from BizCard Express, will be in attendance to defend his title. Another fun aspect of the Corporate race is that the ducks are a little bit bigger and the teams are encouraged to decorate them for the race.
Between now and race day, the public is encouraged to stop by Fayetteville Urban Ministry, purchase a duck and send pictures of Ducky to the event Facebook page. People can adopt ducks using Duck Papers (available at Fayetteville Urban Ministry) or by going online. In previous years, pictures from around the world were submitted leading up to the event.
On race day, the public is invited to Campbellton Landing for an afternoon of fun. There will be live entertainment, food vendors and a Kids Zone where youngsters can play and enjoy activities for free. Many of the nonprofit teams will be on hand to share information about their causes and answer questions. The event starts at noon and ends at 3 p.m. The Corporate Duck Race is at 2 p.m. and is followed by the main event.
While Fayetteville Urban Ministry takes the lead on this fundraiser, one of the reasons Price loves being a part of it is that it is a time when the community works together to benefit those among us who need it most. "We are not the only nonprofit out there, and for this event we all come together as a team. We are all looking for ways to save and serve the community as best we can. That we are able to change lives through this program is what I love best about the Duck Derby."
Proceeds from this event that go to Fayetteville Urban Ministry are used to support all four of the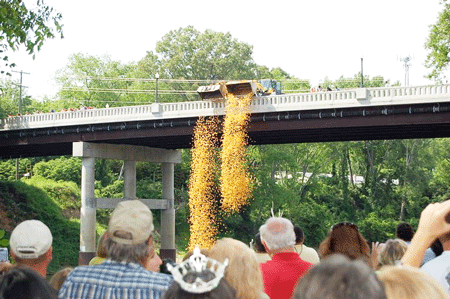 outreach programs at the organization. "Although I feel like Fayetteville Urban Ministry is the most unique nonprofit in Fayetteville, it warms my spirit when we get to connect with other local nonprofits and schools doing good work in our community. I feel like Fayetteville Urban Ministry is the most unique due to our four programs: Adult Literacy Program, Emergency Assistance Program, Find-A-Friend Program, and Nehemiah Home Repairs Program. We serve people from all type of backgrounds. We serve a number of veterans, active military service members, single parents, grandparents, dual parent households, and the list goes on. Not everyone we serve is poor or a single parent. Many of the people we serve are in crisis, or they moved to our area due to natural disasters from different parts of our country. Fayetteville Urban Ministry is a place people come to when they simply need some help. We give a hand up not a hand out. We are able to do all of what we do because people continue to support The Fayetteville Duck Derby. Everything we do, whether it is teaching someone how to read, tutoring or mentoring a child, helping with food or clothing, or helping to make homes safer…we do it 100 percent free of charge. Johnny Wilson, our Executive Director, has a vision is to touch every community in Fayetteville through time, talent or treasure. No one can do everything, but everyone can do something."
Fayetteville Urban Ministry thanks its annual funding partners, The Re-Store Warehouse (205 Forsythe St), United Way of Cumberland County, Juvenile Crime Prevention Council, the City of Fayetteville, and The Fayetteville Urban Ministry Board of Directors.
Find out more about Fayettville Urban Ministry at www.fayurbmin.org. Sign up a corporate team or purchase ducks at www.fayettevilleduckderby.com. It costs just $5 to adopt a duck and the money goes right back to the community.
Photo: Each year, thousands of ducks are dumped into the Cape Fear River to race to benefit local nonprofits.