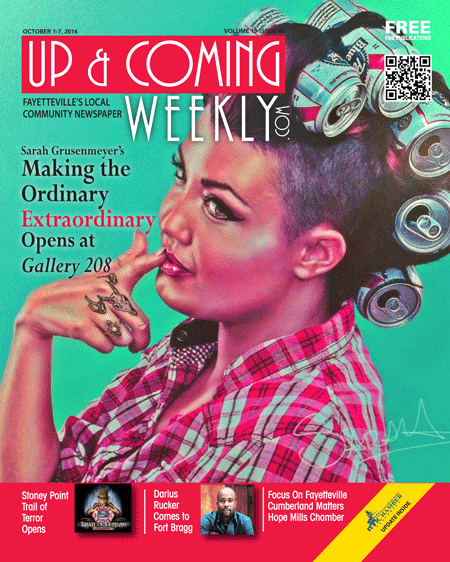 A photographic portrait by Sarah Grusenmeyer isn't like going to a "glam" studio or any other type of commercial enterprise. Commission Grusenmeyer to do a portrait and it involves you showing up at her Oakridge Avenue garage studio and the next thing you know you're sticking your tongue out, scrunching up your face with an exaggerated wink or having your face painted in yellow — then she clicks her camera. The end result, after Photoshop editing, is Grusenmeyer making the ordinary extraordinary.
Many of her portraits have a mysterious or Goth overtone; however, the commissions I'm referring to have an upbeat, kitch quality. Highly-polished skin surfaces add to the overall exaggerated antic-mediating a cultural experience somewhere between Vargas, Sas Christian and Norman Rockwell. (Add Andy Warhol to the reading list and you have the stack of reference books on Grusenmeyer book shelf!)
An untrained artist, Grusenmeyer exudes raw talent and a desire to put her own spin on the conventions of portraiture. As a painter, she started taking photographs so she would not have to use images by other people for her subject. The practice has grown into a personal oeuvre.
A skillful painter, one has to wonder how this young artist became the accomplished photographer that she is, a photographer that bridges the tradition of portraiture with 21st century youth culture. For Grusenmeyer it was simple: "As an oil painter, I picked up a camera to have my own references for my paintings. The further I got into the editing process of a photograph for a painting, the more I became interested in perfecting the photograph. I found I could transform a digital image that could rival anything I could paint with a brush on a canvas. I still continue to paint on a large scale canvas, but photography is my preferred outlet of artistic expression."
Inspired by the style of Sans Christian, anime-like figures with large eyes and pouty mouths, Grusenmeyer prefers her photographs to appear "glassy and plastic." She cites other artists as inspirational, "artists like Alvarado, Gottfried Helnwein and Loretta Lux."
Grusenmeyer captures the personality of a subject, but not within the traditional timelessness of an ethereal mood. Instead, the result of her work has a sense of immediacy. In her humorous portraits, her strength as an artist is within the comedic moment captured in the photo shoot — within that moment a truth is captured. To be able to click her camera on the right moment, she orchestrates the setting and individuality of her subject.
Grusenmeyer shared, "I'm at a point where I really want the person's personality to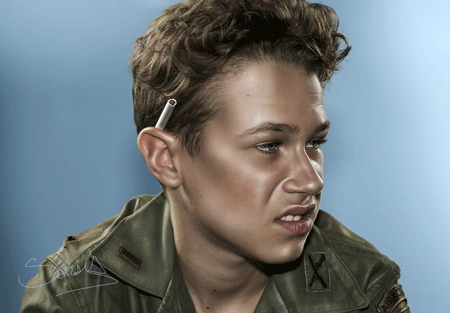 come through in the portrait instead of the person just sitting there trying to look posed and in control."
The staged portraits by Grusenmeyer appear candid while at the same time theatrical. Emotionally insightful, Grusenmeyer can make us feel as if we know the person in the photograph, or maybe we know someone like that, or maybe she captures how each of us has felt in a silly moment. Whatever the magic that takes place, it's easy to feel good or light hearted after viewing many of the portraits.
Grusenmeyer's skill is more than her ability to capture the subject in a way that we feel like we have connected to a stranger; it's more than appearance, we feel we know something about the subject's temperament when she captures a moment of surprise. Each time I revisit a portrait, the surprise continues and I somehow connect to a larger pop-culture reality.
Although many of her portraits are comical, visitors to the gallery will also see another approach to the portrait by the same artist. Included in the exhibit are photographs from a different body of work: the subjects are somewhat listless, yet still caught in a monumental photographic moment, a time element is present.
In the photograph titled "Affliction," Grusenmeyer presents us with the close up of a young female face. The eyes are large and watery, th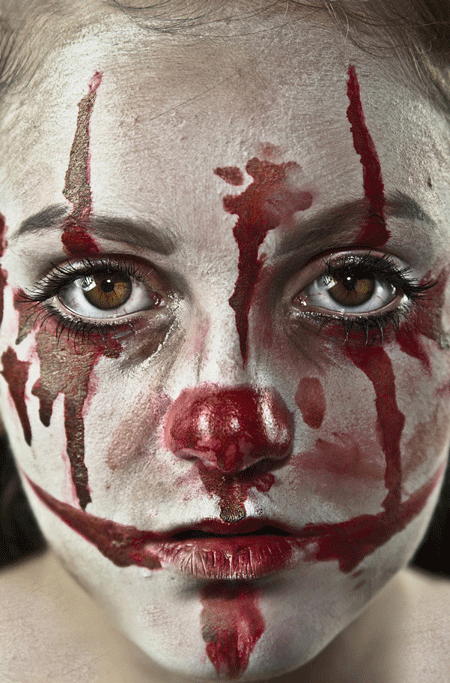 e white pancake makeup is wearing off her skin, and painted stripes of a rouge color are cakey and streaked. The individual looks directly at us. We are transfixed between focusing on the eyes and the pattern of the rouge streaks; both demand our attention first.
In "Boy with Cig," a beautiful male youth looks off to the side of the picture frame, long wavy light brown hair, a cigarette behind his ear, his expression somewhat of a sneer. Wearing a dated green airborne military uniform, we know he is too young to be in the military; yet we are left to question the portraits meaning. Has Grusenmeyer portrayed him to personify innocence in harm's way? Whatever the meaning, the artist leaves us with our own interpretation of beauty and a state of being.
"Obscure" is probably the most commercial image in the exhibit in that the portrait is a cropped close up of another female face; the features are heightened to point of being similar to an anime image. Oversized brown watery eyes peer out from behind a black, lacy mask. The crescent shape of her nose ring brings our eyes back up to her eyes, the visual weight of the small black heart shaped painted on the lips direct us back to the bottom of the image.
As a photographer, Grusenmeyer has been receiving lots of local attention. Besides her many commissions for portraits, she was featured on the cover of Fayetteville Friction, a local independent newspaper, with a two page interview in the August 2014 edition. Grusenmeyer was invited to participate in the present exhibit at the Fayetteville Arts Council, Mediating Relevance: the Politics of Gender.
To understand what I am trying to describe, visitors will have to see the work for themselves. Making the Ordinary Extraordinary, an exhibit by Sarah Grusenmeyer, opens at Gallery 208 on Oct. 9, between 5:30 to 7:00 p.m. — the public is invited. Making the Ordinary Extraordinary will remain up at Gallery 208, at 208 Rowan Street, until the first week in December.
Photos: "Boy With Cig" above and "Affliction" to the left are on display at Gallery 208.